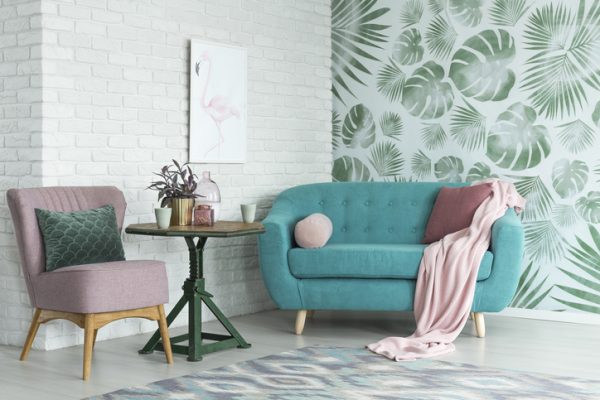 Accent walls have been a favoured trend that designers have used for decades to add flair and feeling to a room. One boldly coloured wall has been a cost-efficient way to accent the positives of a space. But to pull off a more modern look while saving time and money on paint, or tile, modern wallpaper is making a big comeback. The pop of colour and interesting patterns have been so trendy, that new model homes are now including one papered wall in each show home. Maybe this is because our Millennials and Gen-Z babies have no recollection of the painstaking process that is removing wallpaper, or those that spent the 60's, 70's and 80's steaming, scraping, and scoring have finally healed enough to dip rubber gloves back into the wallpaper tray once again.
Fortunately, the revival of this trend has inspired businesses to make wallpapers that are much easier to apply and remove, with some companies even advertising "renters paper" for those who anticipate having to remove it, eventually. So, if you have been sitting at home playing around with the idea of revamping your space to make your home more interesting and inviting, here are a few different styles of Wallpaper that you can choose from in 2020. 
Traditional Florals and the New Chintz
In times of uncertainty, many people look to the past to guide them, and it seems this can certainly ring true when it comes to the bold floral wallpaper and chintzy designs that are making their way back to the future. Alongside homespun and circle spectacles, the revival of this vintage look has a younger generation of homeowners excited to add an eye-capturing element to their homes that their grandparents once swore by. This
"New Chintz"
style has been tastefully plucked from days gone by, to inspire us now with bright and beautiful floral patterns climbing our walls in sophisticated, and fun ways.
Rustic Barn Board
Another modern trend that homeowners and interior designers want to emulate is a rustic-chic or country-themed feel. Unfortunately, covering your walls in wooden planks to achieve that barn board look can be difficult, unless you know someone who is taking down an old barn.  The wood you find may have to be finished in some way before you put it on your walls, and depending on what you find, it may be tough to properly care for over the years. 
To meet these stylistic needs, many have found that wallpaper is an excellent substitute that can truly capture this essence.
Barnboard
patterned wallpaper provides a natural look that is as easy to keep clean as painted walls. With the wide selection of papers now available, and depending on your budget, there are many different styles that give off a realistic, lifelike, rustic, and textured look that will certainly create conversation in any room. 
Contemporary Geometric
From art and decor to textiles for fashion and home furnishings, the contemporary geometric style is taking over the world and consumers cannot be more excited. 
This bold choice can be displayed with beautiful and dramatic patterns that add life and modernity to any space whether it be a stylish powder room, a unique accent wall to your child's digs, or the added special touch to a living room that makes the home feel warm, inviting, and complete.
Geometric patterns
vary greatly, which makes shopping all the more fun, with solutions to satisfy the individual style and taste of just about anybody. It is no surprise that this trend has made its way onto the walls of our homes, and such huge demand has inspired manufacturers to get creative.
Natures Finest
In an effort to embrace a more sustainable world, the trend of melding the beauty and freshness of the outdoors with man-made materials has also made its way into homes, offices, and businesses. While a fresh plant or tree can certainly refresh a room in any home, adding wallpaper with tropical or botanical images can ramp up the relaxing feeling of nature, which is especially nice in the darkest, coldest days of winter.