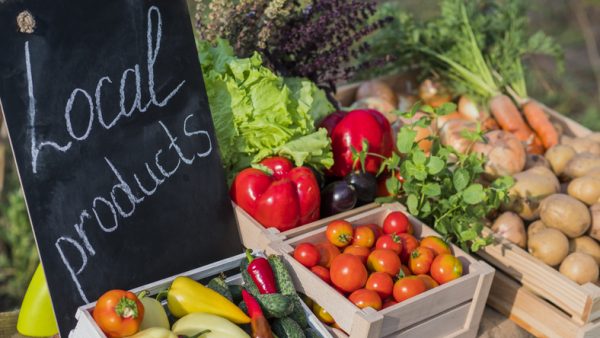 Ottawa and its surrounding areas are known for their breathtaking views, trails, parks, and diverse ecosystems. As a response to a growing desire to support sustainability and healthy living, Farmers Markets have become a staple throughout various parts of the city, especially in our rural townships. In providing farm-fresh produce, organic alternatives and featuring community vendors selling their hand-crafted, one-of-a-kind items, these friendly shops are highly anticipated by people living in every corner of the city. 
While the COVID-19 pandemic has everything looking differently, Farmers Markets have opened for the season with reasonable restrictions, and we could not be more excited! Supporting our farmers and shopping locally is not only a great way to enjoy the healthy products of our biodiverse environment, it is also key to boosting our local economy. Here is a list of Farmers Markets that you can now visit to get the fresh, organic and locally grown products that you have been waiting for.
Almonte Farmers Market 
If you have ever been to Almonte, you can surely appreciate the views and enjoy the many different things to do. If you make it to this little village on a Saturday, be sure to check out their Farmers Market in front of the public library from 8:30am-12:30pm. There is lots of fresh produce from local farms, as well as treats, crafts, plants, and more to pick up and bring home to enjoy. 
Carleton Place Farmers Market
The Carleton Place Farmers Market is open for the season! Be sure to check them out and pick up some fresh vegetables, seedlings, flowers, maple syrup, honey, local coffee, baked goods, canned goods and more! Enjoy the rest of the day kicking back with a picnic at Riverside Park, and soak up the sun in this charming little town. 
Carp Farmers Market
Visit the beautiful town of Carp this summer and check out their market at the Carp Fairgrounds on Saturdays between 8:30am-1:00pm. This market is a popular choice for locals and visitors, and is the largest producer-based Farmers' Market in Eastern Ontario. Pick up your produce, some treats for the family, and plenty of crafts from some of your favourite local vendors while you are here. When you are finished at the market, head over to Fitzroy Park to enjoy the rest of the day hiking trails, swimming, or just relaxing by the beach. 
Kemptville Farmers Market
Enjoy the famous Kemptville Farmers Market open again this season with many of their regular vendors back at it again! There are plenty of vegetable farmers, meat producers, makers, and crafters for residents to shop from for their local goodies to take home. The market will take place at 200 Saunders St. and runs on Sundays from 12:00pm-4:00pm. 
Ottawa Farmers Market – Barrhaven (Lansdowne, Orleans, Westboro)
If you live closer to the city, the Ottawa Farmers Market has multiple locations that it visits throughout the week. The Nepean Woods Park and Ride is one of their locations in Barrhaven, where they will be set up each Sunday throughout the summer from 10:00am-2:00pm. You can also visit the Ottawa Farmers Market in Lansdowne on Sundays, Orleans on Thursdays, and Westboro on Saturdays. Check out some of the great local vendors and stock up on locally grown produce to enjoy all summer long. 
Manotick Farmers Market 
Take a trip to Manotick on Saturdays and collect your produce and locally made treasures from the Manotick Farmers Market. Located at 5492 South River Drive in Manotick, across from the public library, the market will be open Saturdays from 9:00am-3:00pm. You can find weekly listings for vendors on the online store and are able to order your items in advance for curbside pickup.