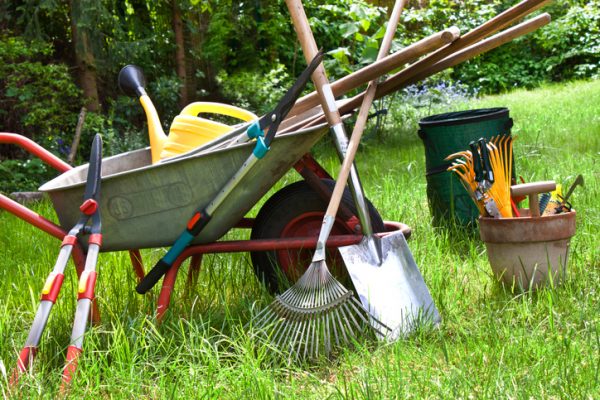 Coming out of a long winter and into spring with a mass order to socially distance yourself from the rest of the public may certainly leave you feeling a little restless and confined within the walls of your home. With temperatures slowly rising and staying above zero, now is the perfect time to begin your list of outdoor to-do's. You may have had ideas lingering in your head throughout about summer projects you have been anxiously awaiting to start, and while it is fun to daydream about all the things you want to accomplish, it is easy to become overwhelmed when a list is piled too high.
To keep your process organized, begin by conducting a walk around your house and take inventory of what projects need to be completed. Once you have your list, rank them by the level of importance; DIY planters may rank slightly lower than repairing damage from some rougher winter storms unless that is, you're really passionate about your planters. While you are doing your ranking, try to work out a budget for your items with a list of supplies you will need. Knowing the estimated costs of your projects will help you accurately prioritize to ensure the affordability and feasibility of the task. 
To get you started, here is a list of practical summer projects around your home that may need some TLC. These touch-ups and repairs add to the safety, security and preservation of your property, and should make their way onto your yearly summer checklist to keep your house in great shape! 
Sealing your Driveway and/or Wood Deck and Fences
Repairing Screen Windows
Outdoor Painting – Touching up Fences, Shutters, and Doorways
Pruning Branches and Removing Dead Brush
Washing Windows
Repairing Caulking Around Windows and Doors
Power Washing your Deck
Once the heavy items are out of the way, if you still have some room in your budget the energy and desire to spend your time outside, soaking up some Vitamin D while improving the aesthetic of your home and honing your DIY skills, you may want to tackle some projects with more artistic value. Here is a list of fun summer projects to add into your plans this year:
Create A Stone Patio or Walkway
Start Your Own Vegetable Garden
Build A Tree House or Outdoor Fort For Your Children
Make a Stone Fire Pit
Light Up Your Space! Twinkle Lights or Solar Lights Look Great in Gardens and Backyards
Build a Porch Swing to Sit in And Enjoy Your Summer Days
Put up a Gazebo to Create Some Shade
We all know that our Canadian summers aren't nearly as long as we want them to be, making it even more important to make the most of the long days and sunshine while it's here. Utilize your time now to plan and prepare your to-do list; By organizing your summer projects, you can stay on top of them, ensure you have the time and materials to complete them and feel a great sense of accomplishment by maintaining or improving the value and aesthetic of your home.