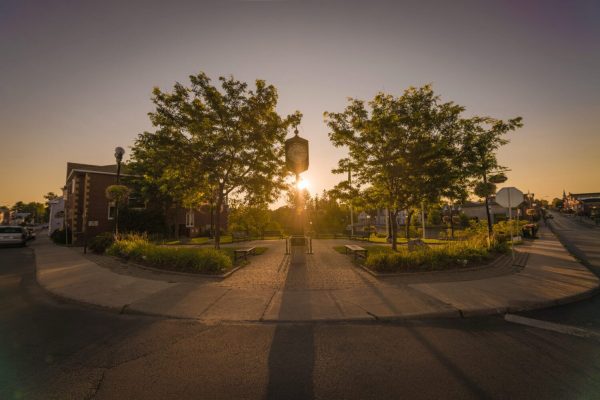 Over the past year and a half, Ottawa residents have left their city digs to find a new home in some of the wonderful outlier communities. Many have flocked to Kemptville, noting that the beautiful town nestled about 50 kilometers south of Ottawa checks off a list of changing needs that homeowners are looking for in the current climate. If you haven't visited Kemptville yet, or if you're considering making this vibrant community your new home, let me spill the tea on why this community is such a hot topic in todays' dynamic Real Estate market. 
A Brief History
The town we now know as Kemptville started out as a small forest in the township of Oxford. It was Lyman Clothier who purchased 100 acres of land and built the town's first sawmill that initiated the establishment of the land as a region in which residents could settle and facilitate the construction of their dwellings with ease. 
Soon the town saw its first blacksmiths shop, followed by a schoolhouse. The first physician arrived a year after the schoolhouse was built, and the first post office erected in 1831, a year after the town officially became known as "Kemptville".

Today, Kemptville is the largest community in North Grenville. Its rural feel and features combined with an array of amenities have made Kemptville stand out among other small towns, moving it to the top of the list for many homebuyers today. 
Amenities
What started out as farmland has certainly grown rich with amenities. You can find everything you need from the big city located within the town's borders, making grocery and shopping trips, home repair, and health and wellness all the more accessible. The town is home to both elementary and secondary schools for your growing family, and has enough green space to make for a new adventure whenever you're in the mood for fresh air and exercise. Service in the city is always with a smile, and the welcoming nature of the residents always makes for an enjoyable shopping experience. 
"Green and Growing"

The town's slogan "Green and Growing" has never felt so literal. With parks, forest, trails, and farmland taking up a fair amount of space, Kemptville is certainly coloured green. The air is fresh and adds a little spring in your step when exploring this ever-growing community. Keeping fit will be no battle with the numerous trails for exploring. Take an afternoon stroll at Link Trail, Kinderwood Trail, Waterfront Trail, or any of the town's amazing parks. Much of the green space is complemented by views of Kemptville Creek, making Kemptville a dream to both live and discover. 
Keeping Busy in the Rural Community
When we say Kemptville is a vibrant community, we really mean it. Your day-planner will be packed full of fun activities for the whole family. 
For those looking to keep busy in the summer months, enjoy a day of golfing at eQuinelle Golf Club, or take your chance with water sports and soak in the sun on the Rideau River in a Canoe or Kayak rented from Drifters outdoors. Don't worry, if you are new to the sport but eager to learn there are lessons available to get you started.

A fall-favourite activity is a day spent at Mountain Orchards, one of the most popular family-run orchards found in the neighbouring community of Mountain. Pick your apples, enjoy wagon rides, corn mazes, and stock up on goodies from their bakery. 
Kemptville is also known for its events that keep residents among the community united. Neighbours and tourists alike gather in the town to celebrate at The Kemptville Live Music Festival, Kreepy Kemptville, The Annual Fall Community Fundraiser Concert, Old Town Christmas, The Dandelion Festival and Ribfest. Events like the above mentioned take place all year long and bring loads of entertainment to this lively community. 

There are also plenty of restaurants that are enjoyed thoroughly by local patrons. Instead of Uber Eats or Skip the Dishes, try visiting local gems like Salamanders, South Branch Bistro, The Kemptville Family Restaurant, Hard Stones Grill, The New Rideau Restaurant or Shelley's Kitchen if you prefer take-home meals and baked goods. 
Buying in Kemptville
Many buyers are now drawn to homes with larger properties as opposed to big-city dwellings with small balconies and no yard or limited privacy. This has resulted in an ever growing interest in Kemptville properties. While there is an amazing amount of greenspace, you can find more residential properties in the south or eastern parts of the city. There are a variety of different styles of homes that offer great value. Find your forever home in a farmhouse, bungalow, single or semi detached, or enjoy the maintenance free lifestyle in one of the town's beautiful condominiums. There is seemingly something for everyone, and with the generous lots and charming communities there is no doubt that you will find something that not only meets your needs, but enhances your quality of life. 
Kemptville may be small in size, but the rural and small town feel coupled with the endless amenities and proximity to the city are what makes this town the buyer's dream that it currently is. If you are looking to buy a home, contact me today and let me show you exactly what the beautiful "Green and Growing" Kemptville has to offer you.