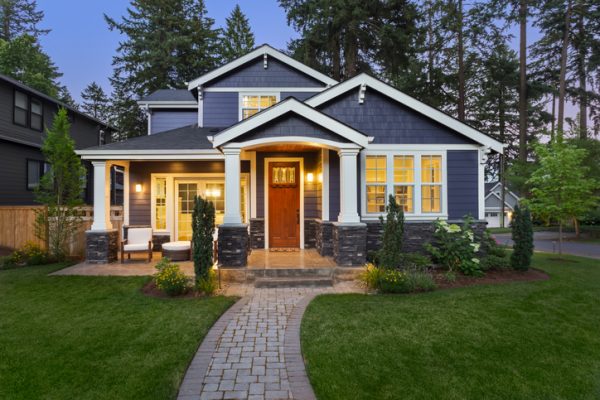 It is incredible, just how important curb appeal really is. Whenever someone passes by your house, they place their judgements based on what they see from the outside. Is your front porch tidey? Are the colours nice? How is your lawn and garden looking? These all seem so superficial, but it is the first thing we see without knowing the story behind the front entryway.
Whether or not you're going to put your house up for sale, ensuring your curb appeal evokes certain, positive thoughts is something that will make you feel good, and it will certainly help your investment shine. Here is a list of ways that you can improve your entryway and make sure that your house stands out from the rest, for the best reasons. 
Clear Out The Clutter
No matter indoors or out, the first step in making your home look more inviting is to sort, organize and purge any clutter than is taking up space. Store away anything that is out of place, or old decor that doesn't match your current style. Ensure to reel up your hoses, tuck away any sporting equipment or children's toys, and put your lawn tools in their designated station. Taking the time to put things in the proper places seems like an obvious step, but when life gets busy and children are having fun, it's easy to accumulate clutter. 
Make your door pop
An easy way to give your entryway a bit of a facelift is with a fresh coat of paint. Painting your door and shutters is a fairly easy and cost efficient way to bring new life into your home. Choose a bold colour that enhances your home's appearance and accentuates the exterior colours you're working with. Ensure to sand any rough wood surfaces first, and then go ahead and apply some fresh paint to your door, shutters, or any pillars or framing that may also require some upgrades. 
Outdoor Lighting
Outdoor lighting in your entryway is not just practical, it sets a mood that you, your guests and your neighbours will love. If you have a covered entryway, installing an outdoor ceiling fixture for some overhead lighting will not only help show off your space, but it will allow you to enjoy more time outdoors all year long. Adding other decorative lighting, whether it be solar lights, lanterns, or string lighting are great ways to spruce up your entryway and really improve your home's curb appeal.
Bring In The Green
Improving the landscaping around your lawn and entryway can give your home a natural, lush feel. Include high planters on either side of your front door or on the steps leading up to your door. Hanging plants and varying container sizes will also add some depth to your home's outdoor decor. 
Replace Old Hardware and House Numbers
Still using the same old common mailbox that came with your home? Now is the time to switch it up, along with any other old hardware that may be distracting you, or others from your home's real beauty. Take a look at your doorknob, railing, and house number! If they are looking a bit tired or dated, swap them out for something a little more reflective of your current style. 
Decorating Your Entryway
Sprucing up your outdoor home decor may be the only thing you need to do to add a little bit of spice to your entryway this year. If you have the room, add in some weather resistant patio furniture to cozy up your outdoor space, and give you a great spot to relax and enjoy your morning coffee. Additionally, a seasonally appropriate wreath, painted wood signs, outdoor lighting, and a nice mat or two (as layering mats is a new hot trend this year) are great ways to bring some personality to the front of your home. 
While decorating and maintaining your entryway is a great way to ensure it really stands out, neglecting other parts of your property could take away from the overall curb appeal. Make sure that you continue to maintain your lawn and garden, keep your hedges trimmed, and property free of clutter so that nothing is distracting from the work you put into making your home look its best, both inside and out.