There are many reasons as to why fall is such a beloved season. Some people adore the mesmerizing colours of the leaves. Others may be fond of the cooler temperatures. As the season progresses into a colder climate, it's important to spend as much time as you can outdoors. Not only does it keep you active but it allows you to spend time with family and friends. Being cooped up inside for too long can have a negative impact on a person, and getting outside, even for a brie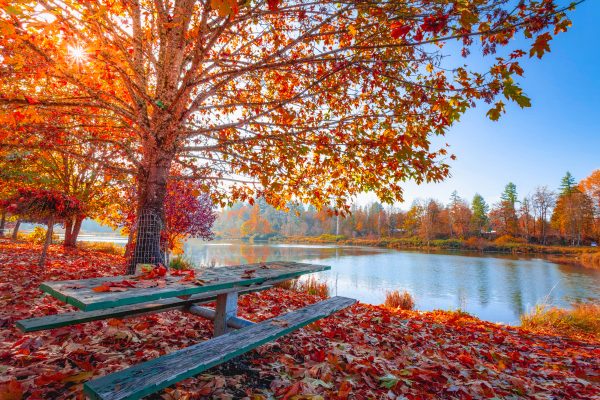 f moment, can instantly bring relief and peace. Ottawa has countless different activities to choose from this fall to help residents stay busy and active. Explore the city and find something seasonal to partake in! If you're indecisive, here are a few suggestions to get you started!
Visit a Pumpkin Patch
One of the most anticipated activities for the fall is going pumpkin picking. Pumpkins represent new beginnings and strength, which is why they're prominent in Thanksgiving. During Halloween, pumpkins and jack o'lanterns are believed to scare evil spirits away. Whether you're planning on carving jack o'lanterns or simply decorating your front porch for the season, visiting a pumpkin patch is always delightful. If you're near Manotick, head over to Millers' Farm and Market before October 31, 2021. Not only do they have a pumpkin patch, they also have a corn maze and tractor rides to further your enjoyment!
Go to Saunders Farm
If you find yourself amused with eerie and terrifying experiences, Ottawa's classic Saunders Farm, located near Richmond, is the best place for a good scare. Their immersive FrightFest is certain to give you the creeps with five different haunts. If that isn't your cup of tea, their new CiderHouse taproom surely will be. With delicious snacks and local cider, memories are sure to be made with the right company. The dates for these events are from September 25, 2021 to October 31, 2021. Don't miss out and book your tickets in advance!
Attend the Day of the Dead Festival

It is believed that the border between the deceased and the living temporarily dissipates on November 2nd. This day, in Mexican culture, is the Day of the Dead. As the name suggests, it is a holiday in which families reunite with the souls of their deceased loved ones. Don't let the glum name fool you. Indeed, the deceased are being commemorated, but the celebration is joyous with dance, music, drinks, and more! Fortunately, you have the chance of experiencing this unforgettable day in the Byward Market, Ottawa. The dates for this event are from October 29, 2021 to November 1, 2021. There are plenty of different activities, such as: Mexican cuisine, outdoor exhibits, workshops, and more!
Go on a Hike
What could be more beautiful than hiking in the crisp fall weather while surrounded by the falling leaves? Grab a friend or a family member and embark on an excursion down Pinhey Forest, located in Nepean. There are two trails, each of them being approximately 3 kilometres. The best part is that access to the trails are free and are year-round. What's great about these trails is that there are farms with purchasable produce, so you can enjoy a lovely hike while supporting local farmers. Be active while enjoying yourself!
Go to a Farmer's Market
If you are interested in fresh, homemade produce, you'll love farmer's markets. The Ottawa Farmers' Market has four locations: Barrhaven, Westboro, Orleans, and Lansdowne. All of the locations, aside from Lansdowne, last up to the end of October with their own hours. Don't miss out on this opportunity to get your hands on some organic produce! Another benefit of purchasing from farmer's markets is the support you give to local farmers and their families. The impact it has on the food economy and community is notable.
Those are just a few suggestions to get yourself up and active this fall. Make the most of this delightful season and partake in a few seasonal activities with the ones you cherish. No matter what activities you choose, the memories you create are the finest gift of all.